Chick 1 says: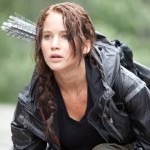 Have you read the books?  I haven't but I'm surrounded by friends who have.  The ads for this movie were exciting and powerful.  I was really looking forward to it.  Here's what I thought:
The Basics:
 In a dystopian future, North America is divided into 12 districts oppressed by The Capital and forced to offer up two teenagers each year for a televised fight to the death.
What I Liked: 
 Quite a bit.  It's obvious the source material is rich.  This is a great and disturbing look at oppression, fear, and entertainment.  The cast is solid, especially Jennifer Lawrence as Katniss. Girl can kick ass! 
At first I did not like the use of handheld.  The shakey cam made it hard to see what was happening but when the bloodbath started I was very thankful to not see clear images of 17-yr-olds slitting the throats of 12-yr-olds.  Yea, it's that intense.
But what I appreciate the most about this movie/story is that it made me think about my role in the oppression of others; from slaves that make my clothes in other countries to my watching reality shows that degrade people.  How much of other's suffering am I willing to put up with to maintain my own comfort?  And how much would I be willing to sacrifice to change the system?
What I Didn't Like:
This is a long movie but there are still some areas that are underdeveloped.  I know some fans of the book were upset that they did not use Katiniss 1st person narration.  As I said, I haven't read the books but I feel that was probably a good move film wise.  Still, I would have liked to have known a bit more about her life before The Games and there are quite a few moments that feel rushed through.
I also had a problem with the ending.  It didn't resolve too much regarding its themes and left a lot hanging.  I feel like part of my dissatisfaction comes from the lack of a goal or mission for the main characters.  Compare to the end of Fellowship of the Ring, another movie that ends with a lot left hanging.  In fact, Hunger Games has a more complete story arc as far as action whereas Fellowship has many plotlines hanging.  But the end of Fellowship is much more fulfilling because we know what the goal is for the next two movies; to destroy the ring and defeat Sauron.  At the end of Hunger Games, we've gotten through the main action of the Games themselves but we have no idea what the goal is now.  What do these characters want?  What are their intentions?  Are they satisfied with the outcome?  None of these things are clear and it made even their victories in this movie a little hollow.  A battle has been won but I need to know that the war will continue to be fought.
Bottom Line:
An entertaining and powerful movie that gave me a lot to think about.  Are you a part of the Capital?