Chick 1 says: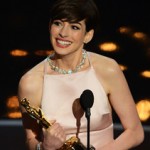 I'm  foregoing the live blog this year as it keeps me from actually enjoying the show itself.  Instead I'm tracking random thoughts that pop up during the night.
5:34pm – While 9-year-old Quvenzhané Wallis is not short on attitude, I do love that she picked her dress because it was "sparkly and fluffy" and that she didn't let a stylist talk her out of  carrying a puppy purse named Sammy.
5:45pm – It's Daniel Radcliffe!  Cutiepie!  And, bless his heart, one of the few people shorter than Ryan Seacrest.
5:59pm – How cute is it that Joseph Gordon-Levitt came with Sally Fields?  I'm always surprised how low his voice is.
6:18pm – So 49-year-old Helen Hunt looks old and 75-year-old Jane Fonda looks fabulous!
6:47pm – We've been on this remote location with still photos for a while now.  Did E! News loose their live feed?
6:49pm – Oh, ABC started at 6:30 this year instead of 7.  Bummer, their red carpet coverage is never as good.
6:50pm – I take it back.  Hugh Jackman picking up Kristen Chenoweth and his wife in each arm is pretty cute.
7:05pm – Oh my gosh, I love Adele and her accent!  I can't understand a word she's saying.
7:07pm – Oops, audio difficulties.  Guess you don't cut Sandra Bullock off so you can adjust your settings.
7:40pm – Nice!  Seth McFarlane you're winning me over. Long but very funny opening.
8:05pm – Hellooooo Avengers!  That's a whole lotta yum.
8:27pm – Wow, I didn't know you could make James Bond so boring but this montage…zzzz…
9:19pm – Great Sound of Music gag!
10:03pm – Well hello, Barbra.
10:32pm – I like Seth McFarlane but this is becoming a rather boring telecast.
10:44pm – Oh, Jennifer Lawrence, I think you're the most authentic person in the room.  You make even a fall work for you!
10:45pm – Smart and funny intro for Meryl Streep.
10:51pm – Daniel Day-Lewis is eloquent and charming as always.
10:53p – How fun!  Michelle Obama.  I really like her.
11:02pm – Seth/Kristen, you guys are cute but we're tired, please don't expect us to sit through you closing number.
11:03pm – High points (Seth's humor, some of the musical numbers) and low points (boring montages, some of the musical numbers) make this year a mixed bag.  What were your favorite moments?
See ya next year!