Chick 1 says: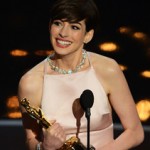 I'm  foregoing the live blog this year as it keeps me from actually enjoying the show itself.  Instead I'm tracking random thoughts that pop up during the night.
5:34pm – While 9-year-old Quvenzhané Wallis is not short on attitude, I do love that she picked her dress because it was "sparkly and fluffy" and that she didn't let a stylist talk her out of  carrying a puppy purse named Sammy.
5:45pm – It's Daniel Radcliffe!  Cutiepie!  And, bless his heart, one of the few people shorter than Ryan Seacrest.
5:59pm – How cute is it that Joseph Gordon-Levitt came with Sally Fields?  I'm always surprised how low his voice is. Read more