Chick 1 says: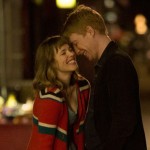 Very excited about this time traveling romance from Richard Curtis and I was not disappointed
I love most of what Curtis has written.  Four Weddings and a Funeral, Love Actually, the screen play for Bridget Jones' Diary, even a lovely little episode of Doctor Who (which I secretly hope got him thinking about time travel for this one).  I knew he'd bring heartwarming humor, romance, and poignancy with just the perfect amount of British snark.
I don't want to spoil the story.  Just know that Gleeson and Nighy play father and son in a family where the men can travel in time.  What's lovely is that Gleeson's character is such an ordinary bloke with an ordinary life.  This is what Curtis does best, embracing both the immense value and the heartbreak of things that we all experience.
Up and comer Domhnall Gleeson (Hi, Bill Weasley!) carries the burden of this story on his skinny but capable shoulders.  Rachel McAdams is enchanting and her chemistry with Gleeson is sweet.  And for heaven's sake, go see anything Bill Nighy is in.  Anything, I tell you!  Don't argue; just watch it!
Bottom Line: Bring your tissues and leave feeling inspired to enjoy your life without the benefit of time travel.