Chick 1 says:
Yes, I skipped Part 2. Part 2 was supposed to be about June releases but as far as June movies were concerned….turns out, I could wait.  I actually wrote a Part 2 draft but it was the most boring thing I've ever written.  I decided to spare you.  Happily, July is looking much more promising.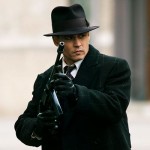 Public Enemies: Johnny Depp & Christian Bale? Say no more.  I'm in.  Make it a period piece & throw in Marion Cotillard?  Color me very interested.  I'd like to see this in the theather but there are two problems.  First, it's rated R for gangster violence and I'm a complete wuss when it comes to violence, especially on the big screen.  And second, while watching the trailer on the big screen I realized it's filmed digitally and, honestly, it looks like crap.  I'm talking cinematically here.  This is set in the 30s.  It could have been lush and moody.  Instead it looks like the evening news.  Anyway, I'll try to check it out this weekend.  Opened July 1st.
Harry Potter and the Half-Blood Prince: Excuse me while I wipe the drool from my mouth.  It's about time.  There is so much that is promising about this movie.  Not only is this my favorite book in the series but it was directed by David Yates who helmed Harry Potter and the Order of the Phoenix, which is, in my opinion, the best movie in the franchise (so far).  Check out my review of Order of the Phoenix here.  The trailers look fantastic and appropriately creepy.  This is definitely my #1 I Can't Wait movie this summer.  Opens July 15th.
(500) Days of Summer: In limited release the same weekend as Harry Potter, is this little indie pic.  A romantic comedy starring two of my favorite up and coming actors, it's gotten a lot of great buzz since it premiered at Sundance.  And can you get any more talented or quirky than Zooey Deschanel and Joseph Gordon-Levitt?  I love both these guys and pairing them is just brilliant.  The trailer looks as wonderful as you would expect from these two.  Opens July 17th.