Chick 1 says: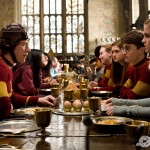 Based on the sixth book in the series, Half-Blood Prince is my favorite.  We get loads of info on Voldemort thanks to Dumbledore and his cabinet full of memories and Harry finally gets a clue about who his true love is.
The Basics: When Harry returns to Hogwarts for his sixth year, Dumbledore begins to train him in earnest for a final showdown with Voldemort and gives him an important mission concerning the new Potions Master.  Conveniently, Harry is acing Potions class with the help of a mysterious but ominous textbook.  In the meantime, romance and its complications abound for our young heros.  But Harry is obsessed with finding out what Malfoy is up to and all this is leading to the unthinkable.
What I Liked:  As I said in my review of Harry Potter and the Order of the Pheonix,  David Yates is a fantastic director and D.P. Bruno Delbonnel did an awesome job as well.  There were several times I thought, "That is a beautiful shot."  Special effects, sound design, and music were as well done as they were in Order of Pheonix, all evoking a kind of eerie beauty.  And the mood they create makes it feel like a grown-up movie.  But that doesn't mean the Harry Potter franchise has lost its charm.  What surprised me about this movie was the combination of muted terror and some really fun humor.  The filmmakers created both with a subtle touch, building the terror through dread of what was unseen and the humor by letting the actors, now quite comfortable with their characters, find those funny little things we all love about someone we're familiar with.  It was so nice to see Ron & Hermione both with little more plot and Tom Felton as Draco Malfoy really got a chance to shine.  Newcomer Jessie Cave who landed the coveted role of Lavender Brown held her own quite well and the actors who play the young Tom Riddle were sufficiently creepy.  I actually found this movie quite scary and even jumped one time when I knew exactly what was going to happen. 
What I Didn't Like: First off, I was very surprised with what was cut from the ending and felt it was not the right choice.  Half-Blood Prince completely lived up to my expectations until that point but honestly, and surprisingly considering how this movie ends, the ending was anti-climatic.  Also, there was no avoiding the important role that Ginny Weasley plays and, as I had feared, Bonnie Wright is not that strong an actress.  I really hate to criticize someone so young but she doesn't have much presence.  Still Yates did what he could with her.  Also not enough Helena Bonham Carter, Alan Rickman, or the Voldemort memories.  More please.
Bottom Line:  A fantastic and mostly satisfying movie but not as good as Order of the Phoenix.