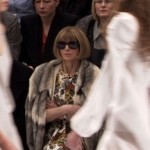 Chick 1 says:
Apologies for the long silence.  This fall I found myself searching for my first home in order to take advantage of the tax credit.  I had no idea how much time that would take.  Now we'll see how much moving both my home & my office during the holidays will take!
Anyway, I have seen a few movies including this documentary on Vogue & its infamous editor-in-chief, Anna Wintour. 
The Basics: Vogue is the premiere fashion magazine in the world & its September issue each year sets the tone for the entire industy.  This documentary gives an inside look at getting this massive magazine to print.
What I Liked:  The movie never bored.  Following, not only Wintour but also Grace Coddinton, the creative director at Vogue as they oversee shoots, articles, layouts, and a million other details, often butting heads with each other along the way.  If you don't know, Meryl Streep's character in The Devil Wears Prada was based on Wintour; the book was written by a former assistant.  I was surprised how much I liked both Wintour & Coddington.  Neither wastes any warmth on anyone but they are both certainly visionaries and I especially related to Coddington's artistic style.  I loved her romantic lush layouts.
What I Didn't Like: I would have loved to have seen more of some of the others staffers.  People come & go quickly and I often wanted to know more about the lower levels of Vogue.  I would have also liked more in depth coverage of some of the shoots, like the cover shoot with Sienna Miller.  But I sense this was simply a matter of limited time.
The Bottom Line:  This movie not only entertained & informed me, but I was very surprised that it also inspired me, leaving me pondering the world of art that is expressed through fashion.