Chick 1 says: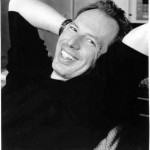 Hans Zimmer is one of my favorite composers and I know I'm not alone in that feeling.  He's an incredibly prolific and varied writer.  From Twister & Driving Miss Daisy to The Lion King & Prince of Egypt to Gladiator and Pirates of the Caribbean, his work is really amazing.  Gladiator & Pirates are two of my favorites of his and I tend to associate him with big epic scores.  But his work is not as easily identified as John Williams or James Horner (whom I can sometimes identify by a single chord). 
Below is an interview with Zimmer from FirstShowing.net, dealing largely with the Sherlock Holmes score but also with many other topics.  I loved the music in Sherlock Holmes from the very first note and had no idea it was Zimmer until the closing credits.  Before the action even begins  the audience is set up for this particular take on the detective & Victorian London by the music & Zimmer talks about exactly this.
You can read the interviewer's thoughts on this video here.  I personally was struck by Zimmer talking about getting to know "the character I'm writing about".  I knew that composers often write individual themes for particular characters (a la Darth Vader) but it never occured to me that they were creating that character as much as the screenwriter or the actor.  Enjoy!
Hans Zimmer Interview from FirstShowing.net on Vimeo.
Addendum (1/30/10): I can't believe I forgot to mention Zimmer's arrangement of Spider Pig for The Simpsons Movie.  Best. Choral Arrangement. Ever.