Chick 1 says: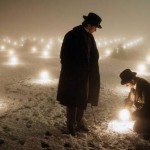 I saw this when it first came out in 2006, one of two dueling magician movies; the other one being The Illusionist.  It stars Christian Bale and Hugh Jackman as competing magicians themselves in Victorian London and is directed by Christopher Nolan, post-Batman Begins. Saw it again recently so it's time for a review.
What I Liked:
Christopher Nolan is as Christopher Nolan does.  (Sorry, Forrest)  And this story has all the marks of this great director: non-chronological narrative, story within a story…within a story (wasn't there a Simpsons episode like that?), and complex themes.  It is a very tightly woven film and no screen time is wasted.  There is no filler.  Of course the cast is awesome.  Joining Bale & Jackman is Michael Caine, Scarlett Johansson, and Piper Perabo.  No slackers there.  Oh, and did I mention David Bowie as Nikola Tesla and Andy Serkis as his assistant?  All the other elements are there too like an intricate script and beautiful moody sets.  Some of the shots in Colorado are stunning.
What I Didn't Like:
This is a very well crafted movie and there isn't a lot to complain about…but I will find something.  Well, two somethings.  First, remember what I said about the no slacker cast.  I wasn't entirely truthful.  I am finding that the more I watch Scarlett Johansson, the flatter she seems and The Prestige is no exception.  She's OK but she's not amazing.  Thankfully, there are enough amazing moving parts around her to make up for her lack of amazing.  Second, I appreciate that there are dark themes explored in this movie but, in the end, there's really no one to root for.  Almost everyone in the story is an anti-hero.  Despite that this personally leaves me feeling a bit unaffected at the end, it speaks highly of the filmmakers that I still find this a satisfying movie.
Bottom Line:
Movie making at its best; moody, taut, and intelligent.  Be prepared to pay attention!