Chick 1 says: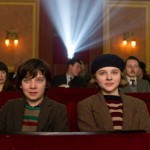 I really didn't know what to expect from this adaptation of a children's book by Martin Scorsese.  It looked beautiful and it was, after all, Scorsese.  It had the fantasy appeal I love.  But the first ads didn't capture me.  It looked void of real heart.  But after some good reviews, I decided to give it a try.  And boy was I wrong.
The Basics: Hugo is a boy living in a Paris train station in the 1930s and keeping the clocks on time.  When a notebook that is precious to him is stolen, he enlists a young girl to help him.
What I Liked: This is a beautiful sweet movie.  I was completely attached to the little boy from the very beginning and didn't want anything to hurt him.  Asa Butterfield, who plays Hugo, was fantastic.  He has huge blue eyes and uses them well. At the end he even looks like a young Elijah Wood.  In one scene, he portrayed more despair than I ever want to see on someone so young.  He broke my heart.  Chloe Grace Moretz, who plays his young friend Isabelle, gives her usual fabulous performance.  Even at 12-years old, Moretz has been giving characters more depth than many adult actors.  I loved her character too; kind of a modern day Anne Shirley.  The rest of the cast is impressive as well; I mean, would Scorsese really have any problem getting the best? Effects are lovely and I loved the use of the use of the gears from the clockworks. 
But the themes are what make this movie special.  Hugo looks at how important it is to have a purpose in life and what happens to people when they don't.  Tying in with this is the magic of storytelling and how stories, even fantastical ones, affect our real lives.  The movie is basically a love letter from Scorsese to his own purpose in life and an enchanting love letter it is.
What I Didn't Like: The story moves at a relaxed pace so at times it's a little slow but by the end when I was crying and freaking out about what was going to happen to Hugo, that really wasn't a problem.
Bottom Line: A love letter to storytelling that is worth reading!