Chick 1 says: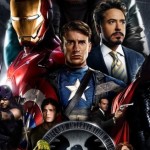 When the Avengers was announced way back in 2008, I wasn't really sold on the concept.  I just didn't think that it would be possible to successfully combine the different universes in which each of these heroes live.  There was no way that the world that Jon Favreau so lovingly created around Tony Stark contained a Norse God, maybe a hulk, definitely not a 1940s style do-gooder super soldier.  No.  And as each individual movie (Thor, The Incredible Hulk, Captain America, Iron Man 2) came out with varying success, I became even less convinced.
I am very happy to be very wrong.
In the early minutes of the movie my brain was already near exploding from all the cute boys, and they hadn't even gotten to Downey yet.  This movie is packed with eye candy!  And, yes, for you gentlemen the lovely Scarlett Johannson is in the mix with wardrobe that obligingly hugs every curve.
Despite the fact that these actors are easy on the eyes, there's not a slacker in the bunch.  Our central cast is strong and even the layers outside of the six avengers aren't hurting for talent.  Special callouts go to Scarlett Johannson who I found flat in Iron Man 2.  That may have been due to her character but here she gets a chance to show off her skills.  In fact she gets one of the best introduction scenes of all the Avengers.  Also doing a great turn is newcomer Mark Ruffalo as Bruce Banner/The Hulk, a role which is quickly becoming the Defense Against the Dark Arts post of Marvel Studios.  I loved his portrayal of the timid Banner; maybe he can break the curse.  Chris Evans, Jeremy Renner, and Chris Hemsworth all handle their roles deftly too, although I did find the pace slowed down a bit whenever Thor (Hemsworth) had a scene with Loki (his brother and the villain of the piece). But Thor was my least favorite of all the singles so far.
But the centerpiece of all of this is Robert Downey Jr as Iron Man.  It's obvious the powers that be at Marvel have made Downey their king and they could not have put their crown on a more deserving head.  While Iron Man 2 was fun, it was far from the quality of the first one and even RDJ couldn't save some of those scenes.  But Tony Stark is back in top form here; besides looking incredible with a little gray in his hair, he is also the king of the one liners.  And he gets some opportunities to remind us why he's been nominated for an Oscar more than once.
One thing I did not expect from The Avengers was laughter.  This is a really funny movie.  Downey and his one liners are responsible for a lot of this but the script and the whole cast get some credit as well as director Joss Whedon but I'll talk about him later.  The cast, including Clark Gregg as Agent Coulsen and Samuel L. Jackson as Agent Fury, have great chemistry although I sometimes feel like Jackson can't quite handle the more serious material.  I know that's sacrilege for some folks but when he's not yelling at people it's like an athlete who got a part in movie because he's popular.
Of course there's action aplenty.  At one point during the second act, when all six heroes are fighting six different battles, I really wasnt' sure all six of them would come out of it.  And that's another thing the filmmakers have managed to do, balance all of these heroes (and their egos).  They all get development, conflict, and their moment to shine.  Renner gets the hero treatment the least but he's also the least known and they may be setting him of for more projects.
Finally, I have to look at the man in charge.  Although I'm quite the geek, I've really never stumbled into Joss Whedon territory.  But when he was announced as the director, the internet was abuzz with happy fanboys.  And after The Avengers, I am officially won over.  Balancing a LOT of moving pieces, Whedon has given us a popcorn movie that is loads of fun and keeps the storylines for all these different franchises intact. 
Bottomline: A great opener for the Summer Movie Season.  And don't forget to stay for not one but two scenes after the credits.
Bonus Joss Whedon Section: If you've never seen Dr Horrible's Sing Along Blog, you must!  It was written and directed by Whedon during the writer's strike a few years ago.  And produced entirely for internet distribution to avoid issues with the strike.  It's over 40 minutes long but pretty funny.  Enjoy.