Chick 1 says: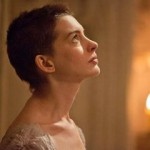 As we enter the second half of the year, Oscar contenders start sticking their heads out of the ground and sniffing the air like groundhogs on Groundhog Day.  The real onslaught won't start until the fall but here are a couple to whet your appetite that have some of my favorite elements in common;  lush costumes, big talented ensembles, and lots of accents.
Les Miserables
I have never seen or read Les Mis in any form.  I know. I know.  I should have seen it on stage when I was in London.  Anyway, this will probably be the one.
Chick 2 comments on this trailer: "Sniff, sniff."  And I quite agree.
Opens December 14th.
Anna Karenina
Another classic I have never read, this one is from director Joe Wright (Atonement and Pride and Prejudice) with Keira Knightley, Jude Law, and a ton of other talented folk.  Although the story is supremely depressing (it is Russian after all), the Wright/Knightley combo means I will be there.
Opens November 9th.