Chick 2 says: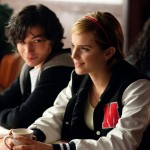 Overall Concept:  B   Well played, but been done.
Acting: A  These kids have it, all of them.
Script:  A-  (good adaptation from book to screen, with a few necessary and maybe not necessary changes)
Cinematography:  B-  Meh
Hotness of Cast:  A  All cuties
Wardrobe:   B-  Is it the 80's, the 90's or modern day?  Maybe things looked different in Pittsburgh in '91.
Location/Setting:  B  Good suburbia
Climax:  B+  Maybe an A if you didn't read the book, but if you're gonna go there, go there.  I'm pretty sure the kids could have handled it, as well as most of the audience.