Chick 1 says: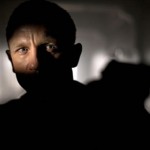 Yay!  It's holiday movie season and we get to start with a treat for the boys AND the girls.  Bond is back and he's 50 years old.  And he's in top form, considering his age.
There's plenty of action including a great pre-credits sequence.  I didn't find it quite as non-stop as Quantum of Solace but still good fun.  It does get a little slow in the last half of the second act and I didn't think the climax quite lived up to the hype.  But it's still a solid Bond.
The cast is in top form.  Craig is his usual yummy stoic self, letting the cracks show as his character is pummeled both physically and emotionally.  Judi Dench as M continues to be, for me, the highlight of the Bond franchise as the perfect combination of bitch and mother.  Ben Whishaw is a fantastic addition as the new and improved Q (and one of the few developments in this film that makes me excited about where the series is heading).  But Javier Bardem completely steals the show as the film's villain, managing to be creepy, funny, and terrifying, usually all at the same time.
The cinematography is also a highlight.  That may not be the reason most people go to see a James Bond movie but make no mistake that the way this movie is lit and shot plays a huge role in its success.  One of the themes is "in the shadows" and Roger Deakins takes that theme and runs with it.  There's a gorgeous fight in a room of glass walls lit only by a huge LED display and the climax is filmed in the glow of a massive fire; beautiful.
Overall, Skyfall is a good, but not great, James Bond movie.
Now I'd like to discuss some things that are very spoilery.  I'm serious.  I'm going to discuss spoilers for three major characters. Here there be spoilers. SPOILY, SPOILY, SPOILERIFFIC SPOIL SPOIL!
Still here?  OK, highlight the section below to read.
Let's discuss the treatment of women here.  Now Bond's never been a champion of the feminist movement but they have made some attempts to creep toward the 21st century, starting with the addition of Judi Dench as M.  But as far as this movie is concerned, they've got three strikes against them.  Actually four now that I think about it.
Starting with Berenice Merlohe as Severine, who is very much a traditional Bond girl.  With her first appearance she has so much intrigue and potential.  She seems to be a power player.  But Bond soon unmasks her to reveal she's little more than a sex slave who's worked her way up the corporate ladder.  Her one attempt at taking charge of her fate ends tragically and she is relegated to the ranks of Bond girls who are as disposable as tissue.  Taking her whole contribution to the movie, she is little more than someone to sleep with Bond and then die.
Next up is Eve.  She starts out as a field agent and in the opening sequence, she seems a bit green.  I will allow them that they seem to be establishing that this is her first mission.  But I was disappointed when she decides that "the field isn't for everyone" and takes a desk job.  Then it's revealed that she is Moneypenny.  I'm hoping that by starting her out as a field agent they are trying to elevate her character above Bond groupie.  I also take comfort that her on very first assignment she shot Bond!  On orders no less.  Girl's got ovaries!
Finally is the demise of M.  As the movie went on I felt this would be the outcome and I have to admit it as far as story it makes sense.  But given my above sentiments, I'm really bummed that the franchise is losing its one strong female character.  She was every bit Bond's equal and often superior.  I loved the undercurrent of mother/son she brought to the Bond world, giving an extra dimension to the females of this universe.  She survived and thrived in both the intelligence community and the political world.  She went out strong but they will be hard pressed to replace her.  And I was unimpressed with Ralph Fiennes.
So here we are; back to a male protagonist with a male boss and the female has been put in the position of assistant/secretary.  I'll be very interested in who the female characters are in the next installment.
I know that James Bond is total male wish fulfillment and I'm fine with that.  But the girls want to play too.  And when we do, we're kicking some ass.