Chick 1 says: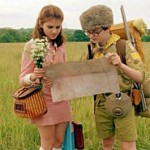 Go.  See.  It.
It's quirky.  It's weird.  It's charming.  It's funny.  It's…what the….?  Oh my gosh! Did they really just do that?
Filled with an amazing cast bringing bizarre and likable characters to life, the story is unlike anything you've seen.  The cinematography and music all bring my childhood into clear focus and the art department and wardrobe must have had a blast creating this world.
It will jar you at times but you will enjoy the ride.