Chick 1 says: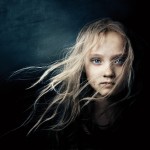 Confession: I've never seen Les Mis, not other movies, none of the stage productions, never even read the book.  So the plot was a complete unknown for me.  I was surprised at how much story there is and how quickly it moves along.  Even at almost 3 hours, it feels like we barely are introduced to one character or idea before we're whisked along to the next scene.  ("Oh, she's destitute already.  OK.")  This doesn't mean that there is no depth to the story; the music, acting and, filmmaking make sure you know each person well enough to care what happens to them.  But despite the brisk pace, it does at times seem a bit long.
The entire cast is strong.  At the center is Hugh Jackman as Valjean and he lends his sturdy shoulders to carry the story forward.  Anne Hathaway completely owns the smaller but pivotal role of Fantine.  The version of I Dreamed A Dream in the movie is not the heartbreaking one used in the trailer but an even better one.  And most of the song is one long take.  How many of those takes did she do?  Thinking about it makes me exhausted.  I also really liked Eddie Redmayne as Marius and Sacha Baron Cohen surprised me as Thenardier.  While Russell Crowe as Javert has a fine voice, it sometimes was not big enough for the music.
The sets, backdrops, and costumes are all beautifully done but for all its gritty realism, it is sometimes obvious they were shooting on a soundstage and not outdoors.  And the green screen backdrops are not the best I've seen either.
But of course the true stars of this tale are the music, the tragedy, and the redemption.  Les Mis is a fantastic look at the nature of Law and Grace as personified by Javert and Valjean.  In truth, both men deeply value justice but to Javert justice means punishment for wrongdoing and to Valjean it means the restoration of what has been stolen.  Bring your tissue and enjoy a good cry and some of the most astounding music you'll ever hear!