Chick 1 says: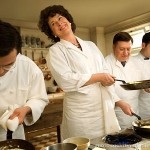 I actually came across the book that this movie is based on a couple of months ago in a thrift store.  I bought it for $1 and read it pretty quickly.  It's a light, easy read.  Was looking forward to this, especially seeing Meryl Streep as Julia Child.  Yummo!
The Basics: Downtrodden & drifting Julie decides to write a blog, cooking her way through 524 recipes in Julia Childs' Mastering the Art of French Cooking.  We also see Julia Child's time in Paris and her own journey from aimless housewife to one of the world's most influential chefs.
What I Liked:  Of course, Meryl Streep is magnificent.  The book focused very little on Childs' story but if you cast Streep.  you better change the focus of your story.  She & Stanley Tucci, who plays her husband, have  charming chemistry together and whenever she was on screen I wanted to run up to her and give her a big kiss on the forehead.  Amy Adams does a fine job as well, along with Chris Messina, who plays her husband.  The spirit of the story is sweet and, of course, delicious, moving along at a easy pace.
What I Didn't Like: As with all book to screen translations, some things got lost.  But, in my opinion, one loss that hurt the movie was making Amy Adams' character nicer than in the book.  Half the fun of this story, was the author's brutal honesty about herself.  In the book, she had some seriously bitchy moments.  The movie tried a little to do this to Amy but it really didn't work.  I rarely ask that someone be meaner but Adams' sweetness made her half of the story a bit less interesting.
Bottom Line: A pleasant tale of finding yourself and what you love.