Chick 1 says: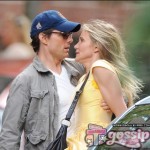 First peeks at several new films I've been curious about.  My reactions range from "meh" to "it might not be that bad".
The Karate Kid: My feelings on this upcoming remake have been suspicious, especially the casting of Jackie Chan & Jaden Smith in the leads.  I have to admit this trailer had a nice energy but I'm still not convinced it has the heart the original one had.  Maybe I just still have a soft spot for Ralph Macchio.
Knight and Day:  I confess I hadn't even heard of this one.  I saw it before Avatar.  It stars Tom Cruise and Cameron Diaz.  I think the premise is a interesting but couldn't decide if it looks good or not.  It's starting to grow on me a bit.
The A Team:  Starring Liam Neeson and Bradley Cooper.  OK, I'll bite.  Show me what ya got.