Chick 1 says: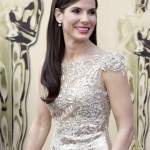 Here we go again!
7:06 pm – Of course they all look gorgeous but Sandra Bullock looks great!  That's a winner's dress.  Just my little prediction.
7:22 pm – Does Miley Cyrus even know who Kathy Ireland is?
7:43 pm – Yay!  Finally a funny opening act…and Doogie to boot!
8:03 pm – Best Original Song catergory – What is Paris 36?  Never heard of it.  Must look it up.
8:22 pm – Wow.  John Hughes tribute.  He really was a genius.  He evented the teen comedy and most of those actors have gone on to have successful careers.
8:40 pm – Ben Stiller dressed as a Navi from Avatar; a strange mixture of funny & "meh".
9:08 pm – OK, didn't want Avatar to win for Art Direction but when one of the winners says he was told 13 years ago he would die soon, I can't be upset about him having his moment.
9:10 pm – Woohoo!  The Young Victoria wins for Best Costume Design!  So happy they won one.
9:27 pm – Hurt Locker is starting to pick up some awards, both Sound awards.  This either means they really have a shot at Best Pic or the Academy has given them the lesser awards as a consolation prize.
9:35 pm – First they make poor Sandra Bullock present when she's got to be crazy nervous.  Then they DON'T have clips of the cinematographer's works.  Then  they give it to… Avatar?!  I'm sorry but that was animation, not cinematography.  Ugh.  Nice slap in the face to DP's everywhere.
9:47 pm – So we get bits of  each nominated score (Go Sherlock/Hans Zimmer!) punctuated with weird dancers but no cinematography clips.  Yes, I'm still complaining.
9:51 pm – I.  love. movie. scores!
9:52 pm – Congrats, Mr. Giacchino!  You are talented and Up was nice but my favorite score of yours this year was Star Trek.
9:55 pm – Love, love Zoe Saldana's dress!
10:15 pm – What's with the lampshades?
10:17 pm – Wow.  Only the big four left.  The telecast is on time.  Another sign of the apocalypse.
10:24 pm – Ya know, really gorgeous set design this year.
10:32 pm – Lovely intros for all the Best Actor nominees.
10:35 pm – Jeff Bridges is still The Dude.
10:47 pm – Uh oh, it's Sean Penn.  Insert sense of humor here.
10:48 pm – My sister just asked, "When is his surgery?"  me, "He's having surgery?" Wendy, "To remove that stick in his a**."
10:49 pm – You go, Sandra!  Gracious speech.  And touching too.
10:55 pm – YES!  First female Best Director!  Well deserved.
10:59 pm – I cannot believe Hurt Locker beat Avatar!  Again, well deserved.
11:02 pm – Overall, very good ceremony.  And no cheesy opening song that names every single star.