Chick 1 says: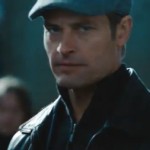 A slew of interesting trailers came out last week. It looks like the fall will be exciting!
Tinker, Tailor, Soldier, Spy: Based on the 1974 novel, this film is packed with British acting heavyweights. The movie looks tense and tightly put together but I'll be going mostly because of the amazing cast. Opens November 18th.
The Three Musketeers: I admit, I hadn't heard anything about this film.  I'm not too interested in another telling of the Musketeers but throw in some steampunk elements and Orlando Bloom as a bad guy, and I'm intrigued.  This could be great fun or a big fat dud.  Opens October 21st.
Mission Impossible – Ghost Protoccol: This is the one that has me most excited.  For those of you keeping score of this franchise at home, it's 1st movie-great, 2nd movie-awful, 3rd movie-great. I'm not too interested in Tom Cruise or his character anymore but if the action is good and other moving pieces are exciting, I'm still in. I thought JJ Abrams, who directed #3 did an amazing job and was disappointed to hear he wasn't returning.  (But Star Trek is all the better for that.) Then Brad Bird (The Incredibles, Ratatouille) joined up and I was back on.  And I had forgotten that Josh Holloway (Lost) was joining the crew.  But best surprise of this trailer: looks like Simon Pegg has been promoted to the 1st string!  His every appearance here makes me happy! Opens December 16th.