Chick 2 says: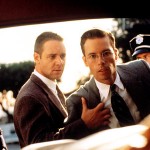 Overall Concept:  A
Acting: A+  Some of the best.  When you began to realize just how good Russell Crowe would be.
Script: A+  It's got it all and keeps you guessing.
Cinematography:  A  Oscar nominated.
Hotness of Cast:  B  Corruption is not that hot.
Wardrobe:  A
Location/Setting:  A
Climax:  A
Still one of the best there is.